Dear Chrono community,
It's an exciting time in crypto, with major digital assets showing strong gains and unprecedented interest around decentralised finance, or DeFi. As a company that has been operating in this space for four years now, we wanted to take this opportunity to update our community about what we've achieved in that time, and specifically over the last 18 months as we have refined our core offerings and launched them in public beta.
The changing landscape of blockchain
Crypto is a fast-moving sector, and we've seen far-reaching changes over the last few years. These have not always been easy to deal with and adapt to. The regulatory scene has changed dramatically since we published our first white paper, and while this has brought much-needed clarity for companies like Chrono.tech, it has also required that we pivot in a number of respects.
We have also responded to changing user demands, as the crypto world matures and the market confirms different use cases. Consequently, we have discontinued development on some products, altered others, and created entirely new ones.
ChronoWallet was one of the projects we made the decision to halt. With so many good Ethereum wallets, it made little sense to focus development on such a service. Meanwhile, we launched our AUDT stablecoin, and our payroll service, PaymentX. We also rebranded and renamed as Chrono.tech.
The major focus for Chrono.tech is still LaborX and TimeX: developing an ecosystem, attracting users to our products, and keeping up with the trends and demands of crypto space.
LaborX
LaborX has taken a large part of our focus in recent months. It has been a long road since we first articulated our vision for a decentralised recruitment marketplace, and much has changed technically and structurally along the way.
We completely changed the architecture for LaborX twice, along with the user experience. While this has been hard work, it has been worth it. We've very happy with the way the product looks and feels, and the growth of users has confirmed the validity of our decisions.
The LaborX jobs page User Interface during beta stage.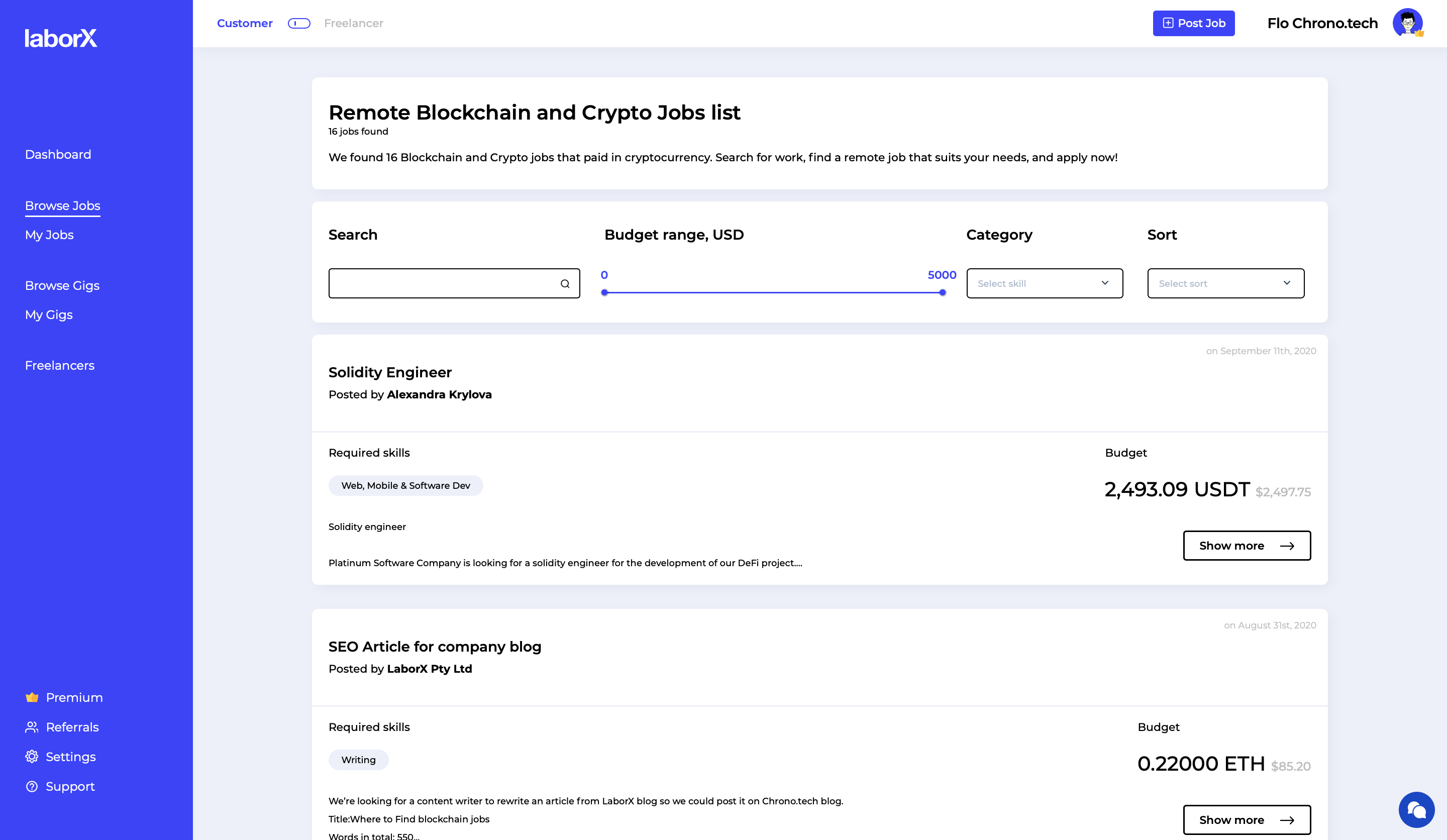 The re-designed LaborX jobs page after launch in early 2020.
Here are some of the major updates and developments for LaborX:
Switched to a modular approach to development, allowing us to focus on launching core functionality (Digital Contracts) and then iterating and building on this with additional modules (including Reputation and Dispute modules)
Mainnet release, which saw LaborX officially launched to our community.
The launch of Premium Accounts meant that users could reduce platform fees by depositing TIME to their LaborX wallet – enabling freelancers to earn more and customers to save money on every single job, permanently
We've very excited about the recent launch of our Gigs page, a Fiverr-like feature that allows users to advertise specific gigs and customers to browse and connect directly
We've optimised the site for SEO and carried out various forms of online marketing to attract new users, as well as improving the workflow on the platform
The number of registered users is now over 5,000!
TimeX

Seeing a continuing need for reliable, secure, compliant exchanges, we have also spent considerable time building out functionality for TimeX, our hybrid Plasma-based platform.
As well as offering fast, safe crypto trading, we've recently added a number of features to TimeX to make the user experience more fun and expand our customer base:
We held an affiliates competition, with prizes totalling 1,300 TIME, to attract new users to the platform
We implemented a Trollbox, a hugely popular features, so users can discuss their strategies without leaving the charts and orderbooks
AUDT integration allows compliant fiat deposits and withdrawals for Australian users, with all the benefits of an AUD-backed stablecoin
Our Raido gateway went live, providing several new fiat deposit and withdrawal options for global users, via a licensed financial institution
In response to the surge of interest in DeFi, we listed Compound's COMP token, against both BTC and USDT
PaymentX
While PaymentX has been a side project, it's worth a mention because it arose from a need that we experienced ourselves at Chrono.tech. We are one of an increasing number of companies that pay our dispersed teams in crypto, but there are no payroll solutions for automating invoice processing and payments. We therefore created our own!
We found PaymentX so useful that we decided to release it for wider use. While this is not a major focus at this time, it has attracted a number of corporate clients who appreciate this functionality.
AUDT
We've also seen the rising demand for stablecoins, which is why we decided to launch AUDT: a compliant, Australian dollar-backed token. Users with an Australian bank account can quickly and easily move funds from the conventional financial system to the blockchain, and back. Like any other stablecoin, AUDT can be transferred and traded trustlessly, but can always be redeemed 1:1 for AUD. AUDT is currently traded on TimeX and Uniswap.
Take TIME
While regulatory and technical changes have meant our original vision has evolved, we're still committed to delivering value to our community of TIME token holders. As we continue to build out the Chrono.tech ecosystem of services, we plan to integrate TIME into new products and use cases, progressively adding value to the token. At present, TIME can be used purchase Premium Account status on LaborX, with several benefits:
Zero platform fees for freelancers and customers – forever!
80% referral bonuses (usually 50%)
Reduced dispute resolution fees
Visual highlighting in job searches
Cashback reward program
We also regularly distribute TIME tokens as part of our competitions and reward programmes. TIME is listed on TimeX and Uniswap.
Thank you to our community!
Above all, we want to say a big 'Thank you!' to our community, especially those who have been with us since we first announced our project. Our community have been our first investors, traders, software testers, freelancers, employers and advocates.
Stay tuned, because we have some great plans. We look forward to delivering more features and updates to our community over the coming weeks. Read about the latest developments every month in the Sunday Times!